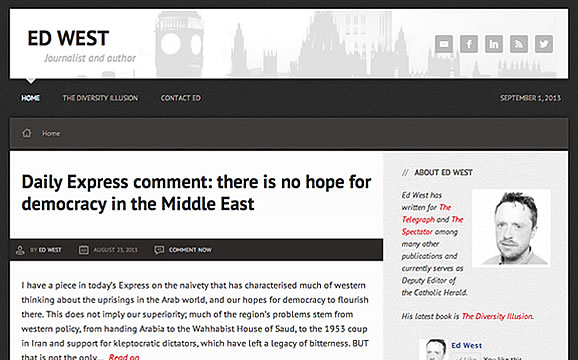 The brief
What I did
The effect
Ed West
is a well-known journalist and author who has written for
The Daily Telegraph
,
The Spectator
,
The Catholic Herald
and other national publications. He needed a total re-vamp of his personal site so that it could serve as a hub for his social networking and as an archive of his articles.
I moved Ed to much better value web hosting, then I migrated his old site across to a new WordPress installation with a new theme. I made sure the site was entirely responsive so that it's easily viewable on any modern device.
I categorised all of Ed's articles and sourced free stock photography for all of them. I then worked on Ed's social media, creating a Facebook page and Gravatar for him, making sure of all his articles could be easily shared and integrating his Twitter timeline into his site.
Next, I ensured any links Ed made were utilising an Amazon Affiliates account so that he'll make money on each and every item purchased via his site.
To finish, I provided Ed with a slick contact form so that his e-mail address will not get out into the wild, and with training on how to use and get the most out of his site.
From a technical point of view, this project involved me digging into WordPress again, looking at the Loop, using custom shortcodes, hooks and so on. It also involved the usual CSS, image optimisation – and some jQuery. It was a fairly standard WordPress deployment for me, but I think a tidy and functional one, appropriately branded for Ed.
From Ed's point of view, he saw a ten-fold increase in visitors upon the announcement of his site, and that number's still rising (he can monitor all of this himself through Google Analytics and WordPress stats).