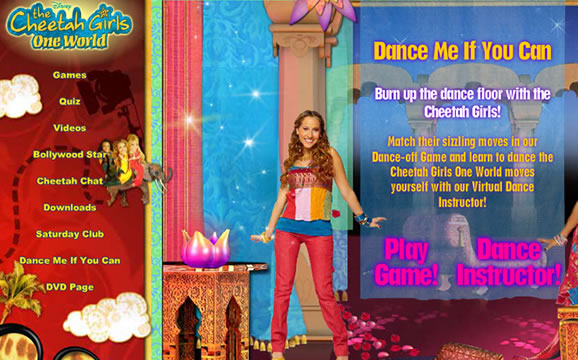 The brief
What I did
The effect
I was recently employed by major London agency Ogilvy Action to assist in the creation of a game for Disney's popular Cheetah Girls site.
The idea was for the player to hit the right keys on their keyboard to match the moves of a dancer on-screen. Of course, the action became faster and faster!
Working at the beginning of the project, my responsibility was to define the over-all structure of the Dance Me if You Can game and, technically, to create a countdown timer which adhered strictly to the MVC design pattern.
A dancer then came in and the moves for the game were all recorded in front of a green screen.
I was only commissioned to carry out the initial mapping and MVC programming for this job. I then handed it over to another more junior developer who implemented the rest of the development.
I was alerted when the game was completed and uploaded. I'm told it was a big hit with the under-15s!