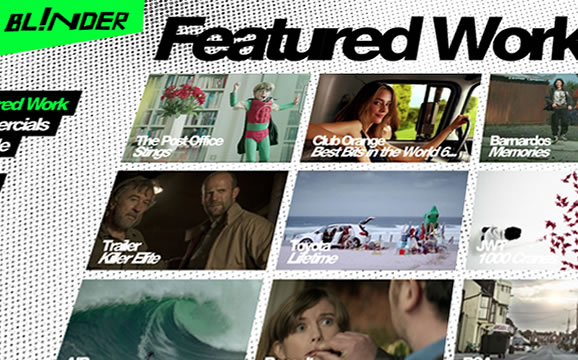 The brief
What I did
The effect
I was recently commissioned by Ireland-based design agency New Graphic to develop a website for their client Blinder,  a television commercial production company.
Blinder wanted a site with a rich media user interface which would include their own customised video player. They also wanted complete control over the site's content so that they could add new directors and videos themselves. Along with this they wanted an integrated blog.
I selected the Drupal content management system as suitable for back-end duties and spent some weeks customising an installation, in detail, for Blinder.
I then set about writing several thousand lines of code (ActionScript), creating them a rich media website to showcase their videos to visitors. In this case I worked to graphic design that had been developed by New Graphic and agreed with Blinder.
This website I created makes queries to the database to select videos belonging to a particular director or a particular category. It also supports showreel and fullscreen video playback.
For the blog, I installed and customised WordPress. I then made sure that the whole site was trackable with Google Analytics so that Blinder could fully understand the profile and behaviour of their visitors.
My client was New Graphic; my work helped them by making them look good to their client!
But seriously, my work gave Blinder a modern, flexible, website which promoted them to their industry colleagues and to their audience.
The best aspect of the site is perhaps the way that is able to be easily updated by the client. This is something I aim to provide for all of my customers now.