I'm hoping this little gotcha will help someone out there.
You're working on your CSS, everything seems clear. It was all looking fine a moment ago. But now things aren't aligning quite right. What on earth is going on? You trawl through the code. You didn't think you changed anything. The code looks okay. This shouldn't be happening! You go over it once, twice, three times. You're on it for an hour.
Hmm… check the zoom setting in your browser! In Google Chrome it's off the main menu: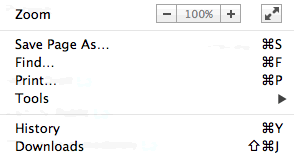 Or, of course, you can use the keyboard shortcut ⌘0 (on Mac) which resets to the default zoom (you then zoom up and down with ⌘- and ⌘+).