Not so long ago I created this orchestral remix of Rihanna's track "Umbrella".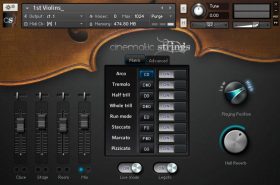 I'm not usually a Rihanna fan but used this as an exercise to get to grips with the Cinematic Strings sample library. I wanted to choose a well known track but show how it could be done in a completely different way.
This is the first time I have ever arranged for strings. The string sections are realistically placed in the stereo field and there are a lot of harmonies going on. Because of this, it took me about a week to make the track.
I'm pretty happy with it, but perhaps the drums are a little heavy and could be given more variety. (I wasn't going for natural or orchestral drums, but still!)
If you like it, please let me know below, and perhaps you could tweet it over to Rihanna too!